Back in the 90s, the concept of the balanced meal was introduced by the US Health Department in a form of the food pyramid. At that time, it was very common to see the food pyramid on the back of the pack of cereals, grains, and bread. It was meant to promote the sense of eating healthy among people. With the passage of time, the food pyramid kept updating according to people's needs. The food pyramid tells people what and how much to eat. That begs the question, how can a food pyramid help someone eat a healthy diet? Let's look into it.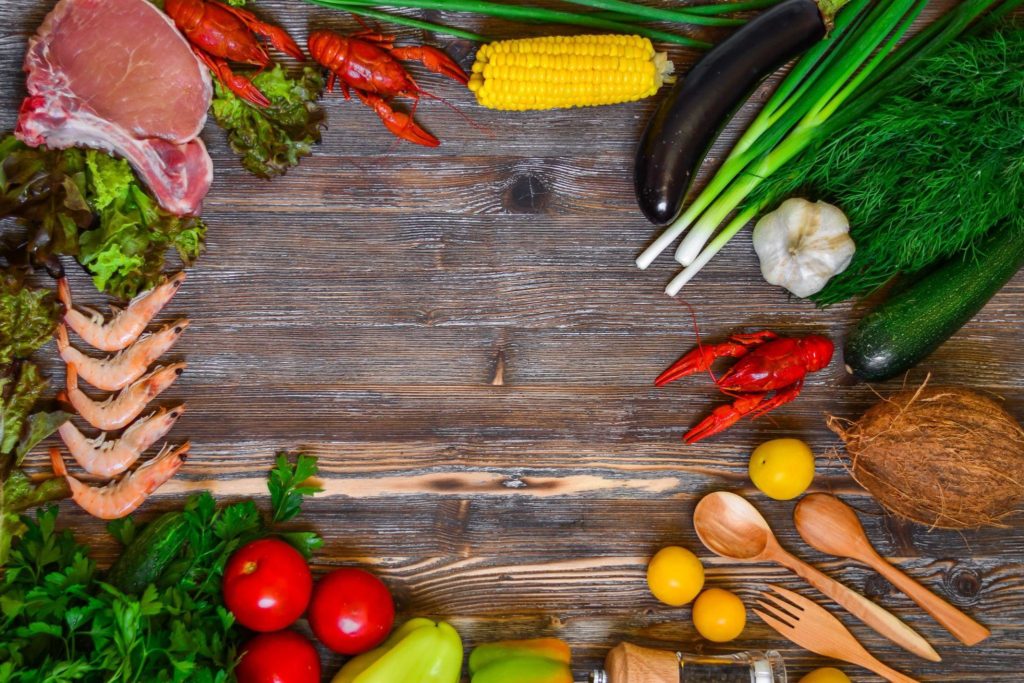 What is a food pyramid?
A food pyramid is a food guide that divides essential foods into different groups, according to their importance. First, it was divided into 7 groups and was named the "Food Pyramid". But recently, it has been squeezed into five major groups and has been named "My Plate". As there is no change in nutritional value, whether you call it MyPlate or Food Pyramid, it will work out in the same way.
What food groups are included in a food pyramid?
Let's take a detailed look at the food items a food pyramid includes, all 5 groups and why are they important to consume.
1. Grains and cereals
Grains are the best source of carbohydrates and are essential for the body's functioning. To get those healthy carbs, the food pyramid included eating whole grain foods and refined grain items including pasta, pretzels, brown rice, oatmeal, and whole-wheat bread.
2. Vegetables
Vegetables are a good source of fiber, vitamins, and iron. That's why eating dark green, red and orange, and starchy vegetables are recommended in the food pyramid. Other vegetables like mushrooms, avocado, and iceberg lettuce are also included in the group along with beans.
3. Fruits
It includes whole fruits and fruit juices. The fruits that are recommended to get the most vitamins and minerals are apple, peach, banana, orange, strawberry, mango, and pineapple.
4. Protein foods & Dairy
To fulfill the protein requirements of the body, seafood, poultry, meat, eggs, nuts, seeds, and soy have been included in the pyramid. Fats are also important for the body and act as a source of energy. Their major sources are dairy products like milk, yogurt, cheese, soymilk, cottage cheese, etc.
5. Healthy fats and sweets
Fats and sweets make up only 10% of the food pyramid, which means, they are not essential but can be consumed in little quantities to make up for some nutrients and vitamins. Fat consumed should be a healthy, unsaturated fat that can easily be found in vegetable oils, olives, peanuts and soya beans. Sweets should be chosen carefully and shall be consumed in very little amount to avoid unnecessary calorie intake.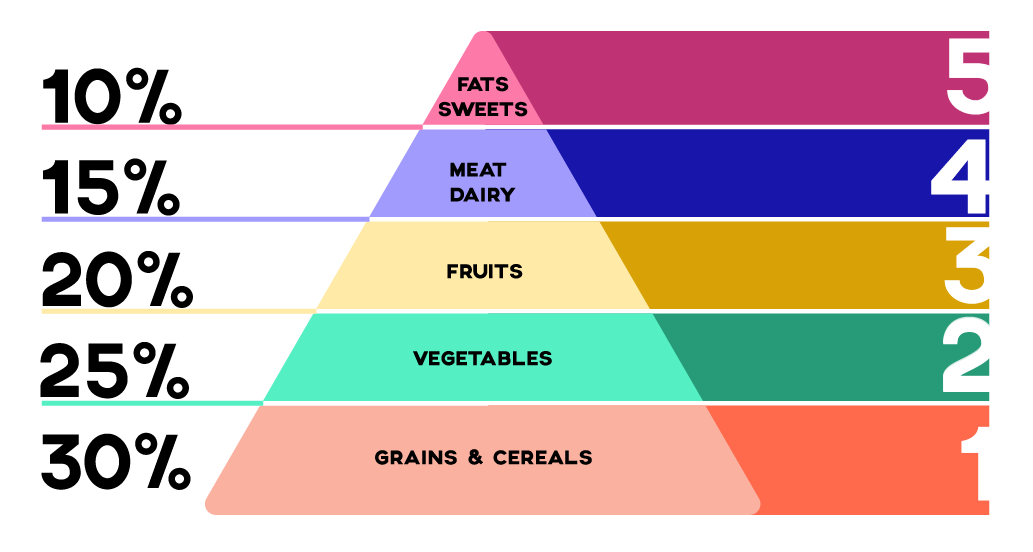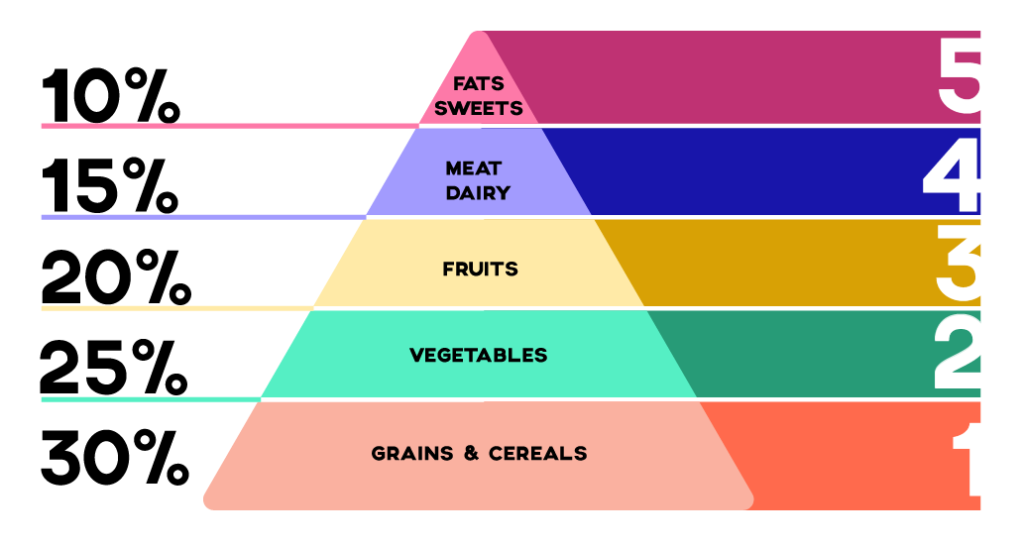 How does the food pyramid help individuals eat a healthy diet?
It's human nature to follow laid-out plans. A food pyramid is a laid-out plan which tells what and how much to eat to stay within the limits of a balanced diet. It helps individuals maintain a healthy diet in the following ways:
A food pyramid gives clarity about the food ingredients by mentioning chemicals and additives present in the food. It helps people to choose a food product, made of natural products rather than full of additives and chemicals.
A food pyramid is like a nutrition plan which enlists all of the food groups one should be focusing on to balance their nutrient intake. It tells how much protein, carbs, fat, and oils are necessary for the body, and what to eat to get the ideal percentage.
A food pyramid is one that also tells people what to eat on a daily basis. It's like a diet plan with a variety of choices to compensate for the nutritional loss in the body.
A food pyramid also acts as a nutritional chart, which keeps guiding about the consumption of vitamins, minerals, and the number of calories per day. It helps people to devise their diet plans accordingly.
All these factors combined, help people in laying out a healthy diet plan for themselves and push them to keep eating healthy for a long long time.
Conclusion
Healthy eating is what keeps our mind and body healthy. To achieve that, one needs to draw out a balanced diet plan which supplies enough nutrition to the body. A food pyramid comes in handy in such cases, laying out all the food groups in an order of their consumption amount according to the body's requirement. If you are confused about what and how to eat healthily, why not give a food pyramid a try?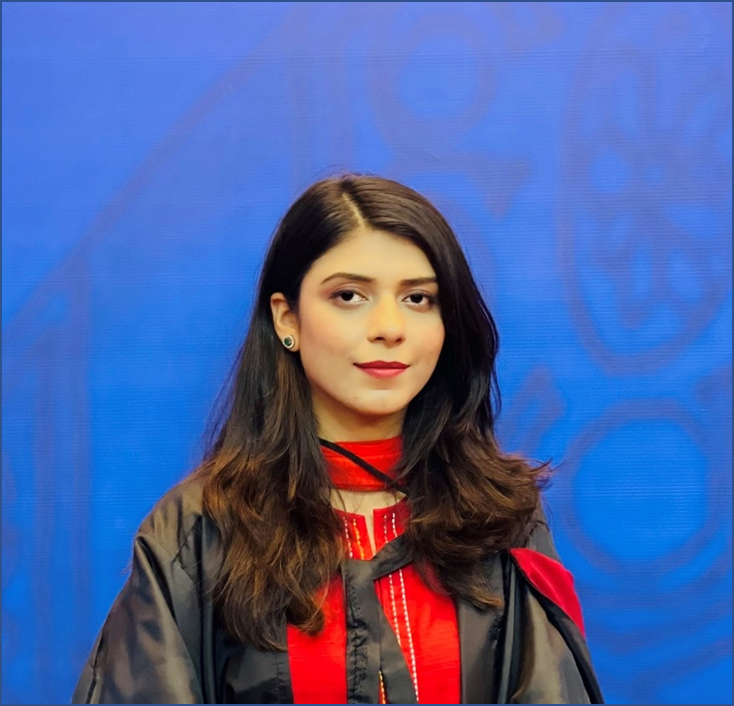 I look up to fitness as a lifestyle and love to pen down about it. I have 2 years of experience in content writing and I am here to share my research and knowledge on health and fitness.